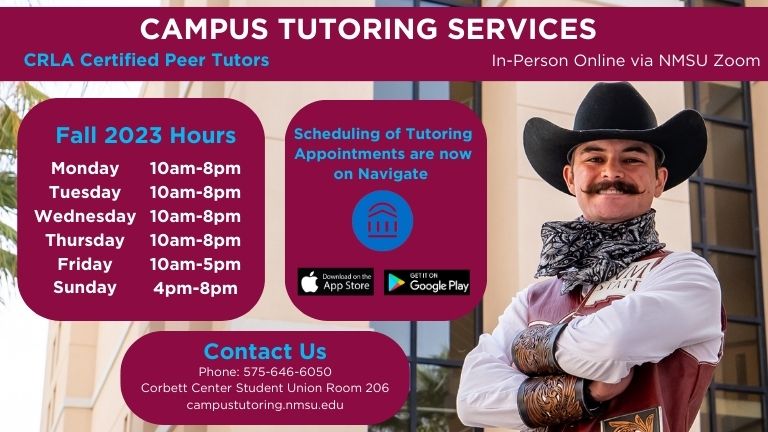 Campus Tutoring Services offers NMSU undergraduate students free, accessible, and convenient options to supplement their academic experience for our most in-demand courses on campus. Campus Tutoring offers individual and small group tutoring online via NMSU Zoom and In-Person by Appointment/Walk-Ins for Fall 2023.
After connecting with a Peer Tutor using NMSU Zoom, you will be able to interact with the  Peer Tutor by using a microphone, a webcam, or a text-based chatbox. Your Peer Tutor will use an interactive whiteboard to diagram concepts and you can share your screen to review documents and clarify course material together.
What is Expected of You
Students are required to Sign-In and Sign-Out for services via Survey Monkey (link will be provided to Online students)
Due to high volumes, we reserve the right to cancel  your appointment if you are more than 15 minutes late.
Students understand that Peer Tutors are not permitted to help with any take-home tests, assessments, exams/quizzes, or uncompleted homework assignments.
Students are expected to come prepared for tutoring with questions and class materials.
Students are encouraged to communicate with their

Peer

Tutor about ways they learn best and whether they need material explained through different Zoom or in-person modalities.
What You Can Expect of your Peer Tutor
Guaranteed 60-minute tutoring session (additional time is dependent on Tutor's availability)
Peer Tutors are trained to provide an extra layer of academic support by reviewing critical concepts and materials from class, clarifying points of confusion, and developing study strategies for upcoming exams.
Peer tutoring is private and protected by FERPA
CRLA National Accreditation
Campus Tutoring Services, led through a peer tutor model, enhances student's self-belief, giving students control over learning processes and developing confidence and commitment to learning.
Campus Tutoring offers a strong and integrated academic support service to students led by experienced and nationally accredited peer tutors. CTS Peer Tutors are the only College Reading and Learning Association (CRLA) certified tutors that serve the entire NMSU campus. NMSU Campus Tutoring Services holds a Level 1 and Level 2 CRLA Program Certification. Tutors participate in ongoing training in order to promote independent learning and believe in excellence through preparation and hard work.